2009 Prospace Billy Webb Challenge
---
MENS' WILDCARD RACE
The Wanganui Rowing Association invited applications from outstanding male scullers to compete in a 2000 metre Sculling Race.The event was held on the Whanganui River, at 5:00pm on Friday 28th November 2009. The WRA, in consultation with the HNZ Rowing High Performance Team, selected the 7 most able from all applicants.
The winner was Nathan Cohen and he received a $500.00 purse and the right to participate in The Billy Webb Centennial Challenge.
PROSPACE BILLY WEBB CHALLENGE WOMENS' RACE
To add to the success of the previous year's event, a women's race was added in 2009.
New Zealand's top woman's single sculler and Beijing Olympian Emma Twigg took on Australia's former world champion, Sally Kehoe. Emma showed her strength and raced away for the win. Sally put up a valiant effort but in these head to head races, once a rower gets an early advantage, it is very hard to pull it back.
PROSPACE BILLY WEBB CHALLENGE MENS' RACE
A huge crowd gathered on the City Bridge and/or lined the banks of the Whanganui River itself, to watch the Prospace Billy Webb Challenge finals in November 2009.
Having lost to the two times Olympic champion Olaf Tufte in 2008, NZ's four time world champion Mahe Drysdale was back with a vengeance. Rowing straight to the lead this year, his superior strength and style saw him complete the course ahead of Tim Maeyens and Wildcard race winner Nathan Cohen.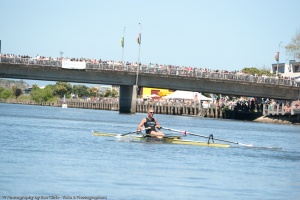 ---
---
EVENT DIRECTOR
Kate Austin
Phone: +64 (0)21 956 995
Mobile: +64 (0)21 956 995
Email: kate_austin01@hotmail.com
Click here to send us an email
---
We invite you to sign up to receive our Newsletter
---
---
Sponsors
---